Right now is the perfect time for some surf and turf on the grill or smoker. The Federalist Chardonnay and Bourbon Barrel aged Cabernet Sauvignon are the perfect wines to complement your surf and turf.
"Crafted for liberty and deliciousness for all" as the website states, the wine will match any palate, personality and plate.
Fire up the grill and uncork the Federalist. Here are my suggestions.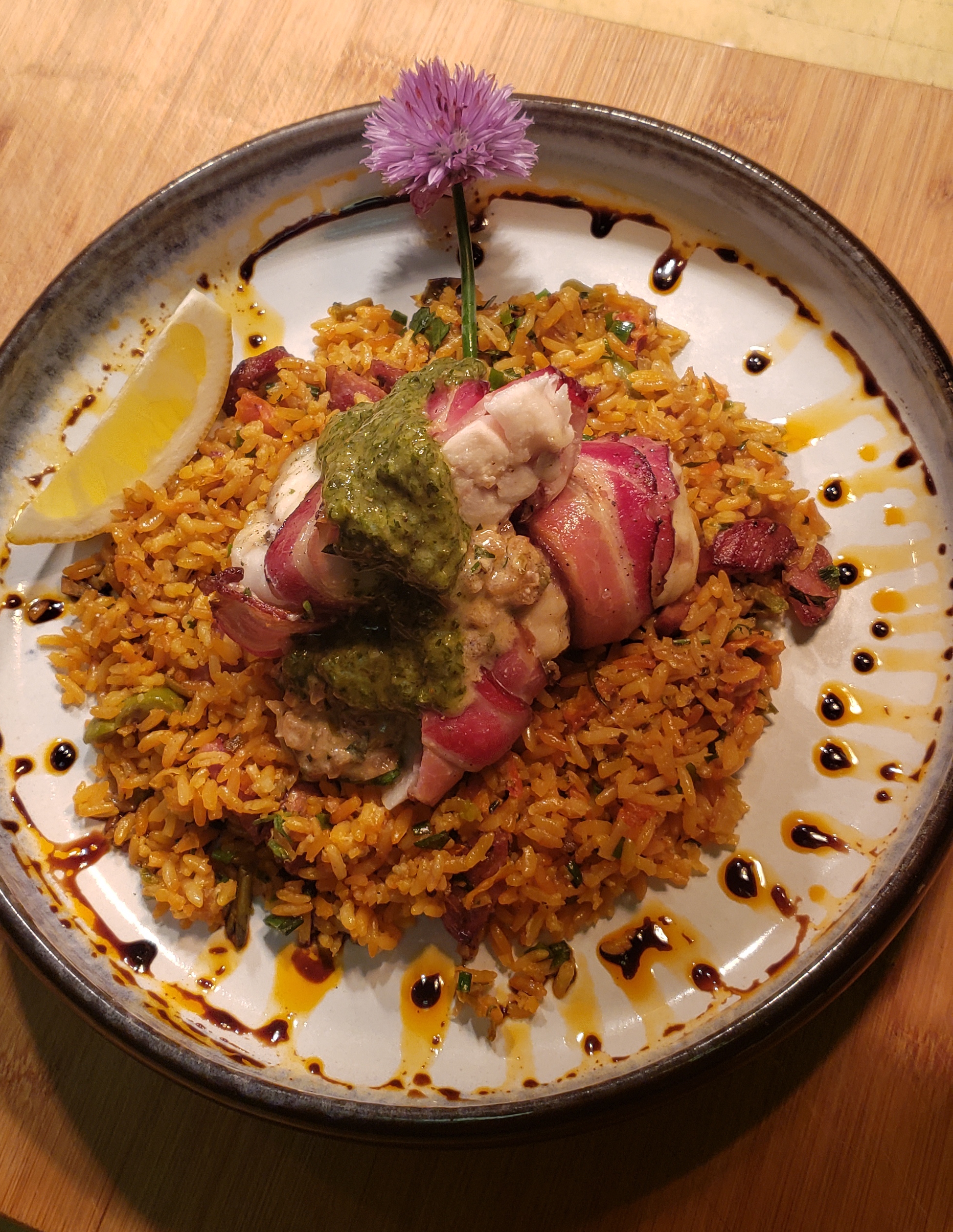 Surf
Lobster is the first item I think of and the Federalist Chardonnay is nice and buttery so it will pair so well with the Lobster.
Scallops are great this time of year. Fresh off the docks, they are nice and sweet. Wrap it in bacon, or grill and brush with lemon butter and a glass of this Chardonnay will have you drooling.
Salmon with a nice lemon butter sauce will complement the wine.
Monk Fish which they call poor mans lobster. Wrap it in bacon or prosciutto with a glass of Federalist Chardonnay and you are set! You might want to add some clams and mussels to the dish too.
Turf
I immediately think of Filet Mignon, which will pair nicely with the Federalist Cabernet but I think there are other cuts of meats that will do better.
Try smoking a brisket. That with a glass of the Federalist Cabernet Sauvignon will complement the smokiness of the meat with the smokiness in the wine from the bourbon barrels.
Ribs will be fantastic with a red based barbecue sauce, either grilled or better smoked. . Try adding a bit of the wine to the sauce and baste.The flavors that the bourbon barrel imparts on the wine will make the ribs stand out.
Hanger Steaks are great when you marinate them for a few days. Grill them 5 minutes each side and it's very important to let them sit for about the same time when they are done.
Loin Lamb Chops grilled and the Federalist Cabernet Sauvignon, another good pairing. I would even add a butterflied leg of lamb in the smoker.
So fire up the smoker or grill and get pairing!
Federalist Chardonnay 2018 – This full bodied Chardonnay has a butteriness to it. Aged in 35% new Oak that is primarily American and Hungarian with a small amount of French oak. Flavors of lemon, pear, green apple with a long finish accompanied by a touch of butter and spice.
Federalist Bourbon Barrel Aged Cabernet Sauvignon 2017 – The grapes were sourced from Lodi, California. Full bodied, but easy to drink. Ripe plum, red and black cherry, fun and exciting. Hint of sweetness mid palate from the Bourbon Barrels and a nice finish. Perfect for the barbecue.