Cava I feel is the best kept sparkling wine secret. It tastes good, it's made in the traditional method and comes in a good price point! Recently there have been some changes in the regulatory process of Cava. Nothing big, but for the consumer, we will be able to have a better understanding of the type of Cava we are purchasing.
First let me draw a map for you on where it's produced. It comes from the Penedes region of Spain where San Sadurini d'Anoia is the capital of Cava with 95% of the production from here. In 2020 the Cava Regulatory Board approved new zoning of Cava Sub-Zones. This intent is so you can identify, taste, and smell the soils, the microclimate, basically the terroir of each sub-zone in the glass. The four subzones are:
Comtats de Barcelona – this is where 95% of the Cava is produced in the town of Sant Sadurni d'Anoia in Catalonia. This area is close to Barcelona.
Ebro Valley – This is the northernmost part of the D.O. (Designation of Origin) where the vineyards are influenced from the river Ebro. The climate is continental with cold winters and hot and dry summers
Viñedos de Almendralejo – Located in the southwestern part of the D.O. it is mainly flat. Altitude between 200 and 450 meters above sea level. A very dry climate with mild winters and hot summers with a warm wind.
Levante Zone – This area lies between the Mediterranean Sea and the Castilian Meseta in Valencia. They experience a dry meso-Mediterranean climate but with strong thermal contrast between day and night with long cold winters.
Cava is produced in the traditional method where the second fermentation happens in the bottle. There are three indigenous grapes that are found in the traditional Cava. Macabeo, Xarel-lo and Parellada. Other grape varieties are permits, which are: Chardonnay, Garnacha, Trepat, Pinot Noir, Monastrell and Malvasia (Subirat Parent). You can find Cava that is produced with Chardonnay and Pinot Noir, just like a Champagne and what we know as traditional Cava is produced from Macabeo, Xarel-lo and Parellada. Not to be left out, you have Rose Cava too.
There are four different categories of Cava all with different aging requirements. The youngest is Cava de Guarda with minimum aging in the bottle of 9 months. This Cava will be bursting with freshness, lightly fruity, and crisp.
The next category is Cava De Guarda Superior Reserva which will spend 18 months aging in the bottle. The grapes must come from specific vineyards and be organically grown. This Cava will be a bit more complex and delicate.
With even more aging in the bottle, 30 months we have the category of Cava De Guarda Superior Gran Reserva. Then the special Cava aged for 36+ months Cava De Guarda Superior De Paraje Calificado. Requirements for this level of Cava are the grapes must be harvested by hand and come from vines at least 10 years old and single vintage. The wine must be produced and bottled on site. This will be a more elegant wine with complex aroma. This will be difficult to find because only 10 Cavas have achieved this recognition. (Sorry to tease you)
Cava does come with a sweetness scale. Brut Nature is the driest. Then Extra Brut and Brut and those three are most likely Cavas you will find. Then moving more towards the sweet side you have Extra Dry (Seco), Dry (Seco) and Semi-Dry (Seco) which will have a sweetness to it, with Dolce being the sweetest. Also keep in mind the acid to sugar ratio and although "sweet" might not taste terribly sweet and will pair well with desserts.
We are going to be seeing new labels on the Cava bottle that will identify the classification. Green for Cava De Guarda, silver for Cava De Guarda Superior, Gold for Cava De Guarda Gran Reserva and platinum. On this label it will identify the sub-zone where the wine was produced, the product category, volume and a quality assurance code that is a unique code issued by the Cava Regulatory Council.
I tasted 2 Cava recently to celebrate Cava week.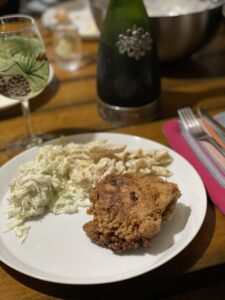 Segura Viudas Brut Reserva SRP $25.99 – What a fancy bottle! The Cava is a blend of 75% Macabeo and 25% Chardonnay and aged on the lees for 24 months. There was a touch of breadiness on the nose showing crisp minerality and white flowers. The palate had a hint of honey with crisp apples, and pears. Paired really well with fried chicken.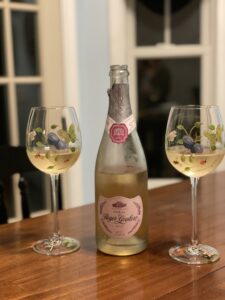 Coral Roger Goulart Brute Rose 2017 $14. This Cava is a blend of 70% Garnacha adn 30% Pinot Noir and spent 9 months aging in the bottle. Beautiful color with aromas strawberry, orange pith and hints of minerality. The palate showed red fruit, raspberries, strawberries with a hint of citrus and a nice minerality finish.