Welcome to Winephabet Street Season 1 Episode 9. Winephabet Street is a monthly series where Lori Budd of Draceana Wines and myself work our way through the alphabet exploring wine and wine regions on letter at a time. The show is live on the third Monday at 8pm and is free, but you must register to attend. Put in on your calendar, pour yourself a glass of wine and hang out with us. 
Itata Valley, Chile
February took us to the Itata Valley in Chile which is known as the "Forgotten Viticulture Region" in Chile. It is 250 miles south of Santiago and covers an area measuring roughly 60 miles from north to south and a little less from east to west. There are approximately 26,000 acres of commercial grapes planted. One of the questions asked during the webinar was about the altitude and we aim to please and found the altitude of Itata ranges from 195 feet to 1475 feet. It is one of the oldest wine growing regions in Chile planted not far from the bay of Concepcion by Spanish conquerors in 1551. This wine region is the forerunner to Chilean winemaking.
Wine Tasted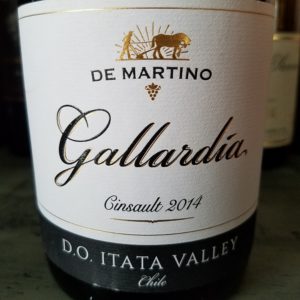 The wine I chose for this episode was a De Martino Gallardia 2014 Cinsault. I was batting double with this because it was my first wine from the Itata region and first 100% Cinsault tasted. Usually Cinsault is used as a blending grape. Although Lori and I had different producers and vintages we both tasted a Cinsault. I found the wine very one dimensional with red berry flavors. As the wine opened the fruit became more apparent but there was a hint of menthol.
Sit down and grab a glass of wine or your favorite beverage and watch or listen to Lori and I as we explore the Itata Valley region of Chile. If you don't have time to watch the webinar, feel free to listen to us on your drive to work, in the gym or when you have spare time. The podcast below is available on Itunes, Stitcher and a bunch of other platforms for your listening pleasure. To watch older episodes visit our website http://winephabetstreet.com/ and visit our sponsor Winc.
Don't forget to register for our March episode where we explore the Jacquere grape. Register here.
<iframe style="border: none" src="//html5-player.libsyn.com/embed/episode/id/6348423/height/360/width/640/theme/standard/autonext/no/thumbnail/yes/autoplay/no/preload/no/no_addthis/no/direction/backward/" height="360" width="640" scrolling="no" allowfullscreen webkitallowfullscreen mozallowfullscreen oallowfullscreen msallowfullscreen></iframe>