Pinot Grigio is a grape found in the northern regions of Italy. Personally, I am not a huge fan of the grape, but continue to try them, knowing at some point one is going to make a difference and I did. It's all about where it's grown and the TLC that goes into each bottle.
Albino Armani has been growing Pinot Grigio in the Adige Valley since 1607. Today Albino and Engle Armani are the 16th generation winegrowers nurturing 750 acres of vineyards in three of Italy's Northeast regions of Triveneto; Veneto, Trentino-Alto Adige and Fruili-Venezia Giulia.
They have found that the best locations for Pinot Grigio are by the mountains. Their vineyards are surrounded by the Alps, in the presence of rivers and have the influence of the Adriatic sea.
Armani Pinot Grigio is SQNPI (National Quality System for Integrated Production) certified produced in Trentino, Grave Friuli and Valdadige. Three different regions, producing Pinot Grigio that is specific to the terroir of the region.
In the Veneto area you will find morainic and alluvial soil where as in the Friuli-Venezia Giulia area the soil is clayey and stoney. In Valdadiage you'll find calcareous and alluvial soil. All these different types of soil contribute to the different taste and structure of the wines in addition to the climate in each area.
I had the opportunity to taste four Albino Armani Pinot Grigios. I really enjoyed them. They paired very well with sushi. I might add, I don't do raw fish, so my fish was tempura coated. If you notice all four bottles are dark. They believe that the dark bottle prevents oxidation and all Pinot Grigio packaging should be in dark bottles.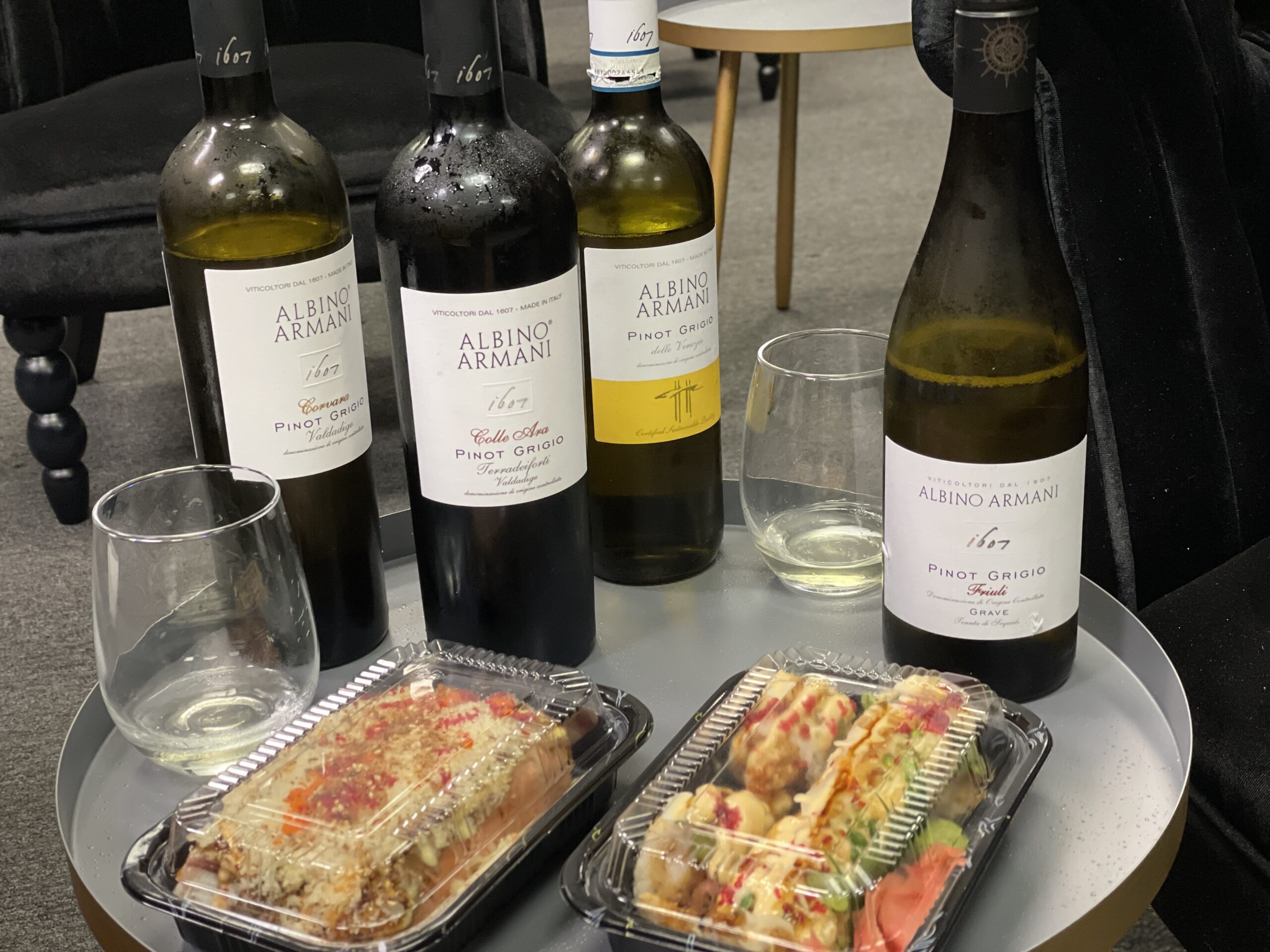 Albino Armani Pinot Grigio Colle Ara Valdadige Terradeiforti DOC 2019 SRP $21.99 -The grapes, from the southern part of Valdadige in the Veneto region selected for this wine were grown on ancient terraces that are exposed to the late afternoon sun. The soil was compromised rich in glacier debris that is mainly calcareous. The Pinot Grigio grapes were cold macerated overnight with their skins giving it a slightly pink color. Notes of stone fruit, pineapple, grapefruit and dried white flowers.
Albino Armani Pinot Grigio Corvara Valdadige DOC 2020 SRP $14.99 – The name for this wine Corvara comes from a 1300 fortress. This Pinot Grigio comes from a warmer climate where the climate experiences temperature shifts and constant winds in the southern part of Valdadige in the Veneto region. The soil is composed of morainic in the valley and alluvial towards the Adige river. Aromas of pear, mandarin orange, white flowers and spice leads to a palate with a nice body, and notes of pear, hints of peach and finishes rich in flavor.
Albino Armani Pinot Grigio Delle Venezie DOC 2020 SRP $11.99 – This area is home to 50% of the worldwide Pinot Grigio production. The grapes come from Armani's best vineyards in three production areas in Triveneto; Veneto, Trentino and Friuli. Aged in stainless steel tanks on its lees until bottling. First sip and it's a burst of acidity with flavors of granny smith apple, pear and soft citrus.
Albino Armani Pinot Grigio Friuli Grave DOC 2020 SRP $12.99 – This is the northernmost vineyard of the Armani's. The vines live in rocky soil and are stressed to get their nutrients. You can taste the terroir in this wine. Fermentation in stainless steel tanks on the lees until bottling. Aromas of pears, apples and hint of almond leads to a palate full of minerality and salinity with notes of pear finishing with red delicious apple.