Welcome to Winephabet Street Season 2 Episode 16- P is for Petite Sirah. Winephabet Street is a monthly series where Lori Budd of Draceana Wines and I work our way through the alphabet exploring wine and wine regions one letter at a time. The show is live on the third Monday at 8pm and is free, but you must register to attend. Put it on your calendar, pour yourself a glass of wine and hang out with us.
February was all about Petite Sirah. We had special guests Steve Tenbrink from Tenbrink Vineyards and his daughter Lisa Howard from Tolenas Winery. Steve is a big Petite Sirah grower and we did a deep dive into Petite Sirah.
First some facts on Petite Sirah:
Petite Sirah is known as Durif a grape named after its founder Dr. Francois Durif. He was a grape botanist and breeder who in 1880 released the variety that he grew from a cross between Peloursin and Syrah.
In 1884 Petite Sirah was imported to California by Charles Mclver for his Linda Vista Vineyard at the Mission San Jose in Alameda County.
1900 Petite Sirah became a popular variety in California
1920's – Petite Sirah was shipped from California to home winemakers in the East during Prohibition
1930's There were approximately 7,500 Petite Sirah acres planted in California
1960's acreage was down to 4,500
1976 California acreage of Petite Sirah is up to approximately 14,000
1988 A big decline in California's Petite Sirah crop to just 5,000 acres between Napa, Sonoma, Monterey and the Central Valley
Today according to an article in the Napa Valley Register article dated Nov 2016, Petite Sirah acreage is roughly 7,500.
Steve Tenbrink and Lisa Howard
Steve and Lisa are located in the Suisun Valley and they explain why the Suisun Valley is the Petite Sirah Capital of the world. Many winemakers were coming to the Suisun Valley to purchase Petite Sirah and said that the grapes purchased from there makes the best wine. The favor structure is what shines. The tannins in the Petite Sirah in the Suisun Valley are so soft, not mouth gripping like the grapes grown in other regions. The tannins are still very structured, but they aren't overdrying abrasive tannins. They believe it's from the shift in temperature and they are a tad warmer than other areas growing Petite Sirah.
Steve and Lisa go into the physical growing of the grapes. Talking about the cover crops, planting and the weather. The need to thin the grapes down. It's all about what happens in the vineyard then comes the wine.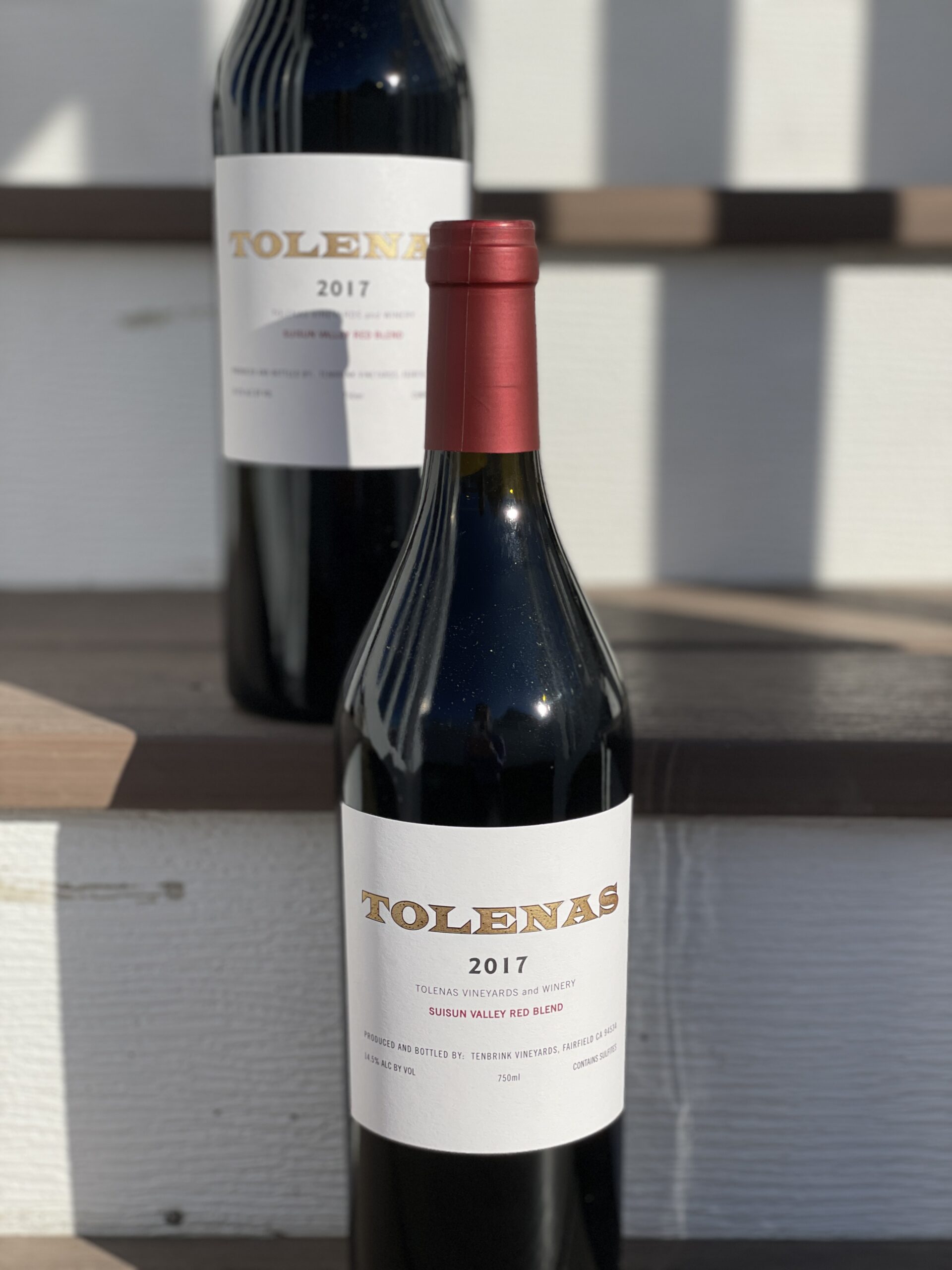 2017 Tolenas Suisun Valley Red Blend This is a blend of 50% Petite Sirah, 30% Cabernet Sauvignon and 20% Zinfandel. The wine is all pressed and aged on its own and then comes together in the bottle. The Petite Sirah is put in an 8 ton wooden fermenter. The wine gets gentle pump-overs and is fermented at a high temperature.
The wine has beautiful aromas of sweet herbs and blueberry leading to a soft and silky palate with notes of black cherry, blueberry and black plum. The tannins bit on the finish as the acidity brightens the palate.
Typically Petite Sirah is dark and inky – think purple teeth! It's a big bold wine and can be very tannic. It has great structure and a unique flavor.
Suggested food pairings for Petite Sirah are red meat, pasta, cheese. It's a great food wine.
Listen to the podcast or watch the webinar. Unfortunately for this episode, I kept getting booted off. Weather, minor technical difficulties, but Lori carried on….
For more episodes of Winephabet Street visit http://winephabetstreet.com/
Watch the Webinar
Podcast: Play in new window | Download